If you think that hot tub maintenance is time-consuming and requires just as much work as a pool, think again!
Contrary to what you may have heard, it's surprisingly simple and can take as little as 10 minutes each week.
During your first 100 days of owning a Jacuzzi® Hot Tub, it's especially important to learn the truth about taking care of your hot tub.
But you don't have to do it alone! We're here to help with this handy list of the biggest debunked hot tub maintenance myths and expert tips to keep your spa in pristine condition.
Let's dive in!
Top 6 Hot Tub Maintenance Myths
Hot tubs have been surrounded by myths for years, whether it's the amount of work it takes to care for them, to the benefits they provide.
But the simple truth is, they've left people raving for a reason, and with hot tubs becoming a staple backyard element, there's truly no arguing about it!
So, before we give you the tools to take care of your hot tub like a pro, let's first uncover the truth behind these six common myths surrounding hot tub maintenance!
HOT TUB MYTH #1
Constantly getting in and out of the hot tub tracks in dirt and debris that builds up on the shell over time.
TRUTH: While it's true you'll occasionally bring dirt and debris into your spa when you step into its welcoming depths, that's not going to build up on your shell.
In fact, unlike many bathtubs, a Jacuzzi® Hot Tub's shell is impervious to bacteria and footprint stains, meaning it's easy to keep clean.
In addition, your hot tub filters are designed to remove any contaminants that enter the water, so there's no need to worry about dirt and debris building up.
HOT TUB MYTH #2
The lengthy process of heating the water means it won't be ready when I want it to be.
TRUTH: Throughout the day, your water circulates through your system, passing through your heating system to be warmed by the element inside.
With the right settings configured, your hot tub stays heated economically, keeping it at your ideal temperature 24/7.
Not only does this keep operating costs to a minimum by maintaining the temperature at all times, but it also ensures your spa is ready to go whenever you're ready to take a dip.
Furthermore, your hot tub cover also plays a role in this!
With its thick insulation and snug fit, your cover locks in heat to easily maintain the temperature of your water while maximizing your spa's energy efficiency.
HOT TUB MYTH #3
Keeping your hot tub water clean not only requires a bunch of chemicals, but it's challenging to do and takes a lot of time.
TRUTH: Actually, it only takes a few minutes a week to ensure that the water in your spa remains in tip-top shape.
Two or three times a week, check the levels of your water's pH, Alkalinity, and sanitizer (Chlorine or Bromine) using a test strip or water test kit.
Adjust each one by adding the right amount of each product, carefully following the instructions on your water treatment bottles.
Your pH should be within the range of 7.2 and 7.8, with 7.4-7.6 being ideal, while your water's alkalinity will need to be between 80 and 120 ppm.
When it comes to your sanitizer, the appropriate level will change depending on which one you've chosen to use.
The ideal chlorine levels should be between 1 and 3 ppm, with three being the most ideal. However, if you've opted to use bromine, you'll want to maintain sanitizer levels between 3 and 5 ppm.
HOT TUB MYTH #4
I'll have to drain the water frequently.
TRUTH: Will you have to change the water? Yes. Will it need to be done constantly? No.
Here's the thing. Each time you add your treatment products to your spa, it raises the amount of total dissolved solids (TDS) in your water, which will eventually make it difficult to treat.
But that doesn't mean you'll be frequently changing your water.
In reality, water changes are only recommended every 3-6 months, depending on the number of people using the hot tub and how often.
For many people, changing their water once every season (just four times a year) is more than enough to keep their spa clean, clear, and easy to maintain.
HOT TUB MYTH #5
Filter changes will be difficult, expensive, and messy.
TRUTH: Access to the filter is much easier than you may think, and they are simple and inexpensive to replace.
Better yet, most hot tubs have a feature that notifies you via the control panel when your filters need to be changed.
Even if you don't have this feature, a simple weekly check will do the trick and lengthen the life of the filter.
Furthermore, you actually won't have to replace your filter very often! Many hot tub filters have quite a lengthy lifespan, upwards of 16 months.
However, proper care is crucial in extending their longevity (we'll get to this below), and with a few simple steps, you'll be well on your way to mastering your filter maintenance.
HOT TUB MYTH #6
I won't use my hot tub enough to get my money's worth when it comes to monthly maintenance and energy costs.
TRUTH: As a new owner, you'll quickly see what most of our owners already know–your hot tub becomes part of your family's daily routine!
Not only does it provide valuable relaxation time, but it also boasts a long list of health benefits after indulging in a session for just 10 minutes a day.
And monthly energy costs are less than you think – as low as $14/month on some models!
See—hot tub maintenance really isn't anything to fear!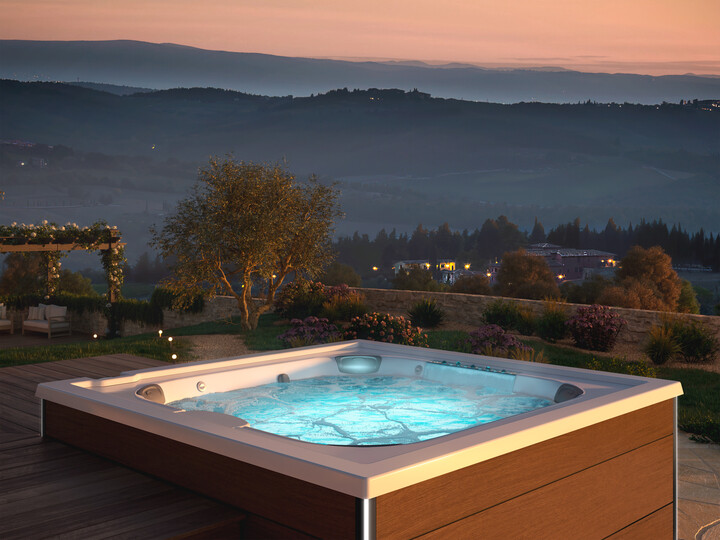 Hot Tub Maintenance Tips For Effortless Care
Feeling better now that we've busted those myths and shared the truth of it?
Good! Now, let's get into the simple hot tub maintenance steps you'll want to follow for a clean, safe, welcoming hot tub all year long!
Test and Treat Your Water Regularly
As mentioned above, keeping your water clean and safe to enjoy is as easy as testing and treating your water with the right products.
We recommend testing your water at least twice a week, with three times being the most ideal.
This will ensure any minor changes in your water quality are quickly caught and managed, keeping your spa in pristine condition and ready to be enjoyed.
Always Double Measure Before Adding Treatment Products
Once you add your water treatment products, you can't remove them, so you'll want to ensure you double-check that you're adding the right amount.
This is as easy as checking your test strip and measuring your additives twice before dumping them into the water.
Additionally, don't forget to keep your cover open after you add any products. This will ensure they can properly off gas as they work, avoiding unexpectedly higher levels following treatment.
If you do over-treat your water by accident, simply leave the cover off to speed up evaporation or add some fresh water to your spa to dilute it.
Stick to a Schedule for Filter Care
As promised, filter care!
Cleaning your filters is actually quite simple and doesn't take much time to do. Here's an easy schedule to follow:
Rinse your filters once a week
Soak them in diluted filter cleaner for 15 minutes once a month
Soak them overnight once every three months
While your weekly rinse will wash away surface debris, the dual soaks spread throughout the year will help lift deeper debris, greatly enhancing their longevity.
Include a Line Flush Before Water Changes
20 minutes before you start draining your hot tub, add some line cleaner to the water and let your jets run on low.
This will help clear out any grime that may have settled throughout your circulation system, keeping your spa running smoothly throughout the next season.
After 20 minutes of circulating, you can start draining your water!
Get The SmartTub™️ System
The SmartTub™️ System will help give you more control over your hot tub.
Not only will you be able to easily check on its status from your phone, but you'll also be able to receive detailed reports on its performance, get alerted to any maintenance needs, and even schedule service!
Learn more about this innovative system in this short video!
Consider Professional Maintenance
Having a certified hot tub technician come out to inspect your spa every now and then is always a great way to ensure your spa is receiving the best care possible.
This can be especially helpful if you'd prefer to hand off the tasks you don't enjoy, like water changes!
Discover Your Dream Hot Tub at Jacuzzi Hot Tubs of Southeastern PA!
At Jacuzzi Hot Tubs of Southeastern PA, we want to make hot tub maintenance as simple as possible, and our team is here to help.
Whether it's suggesting the perfect treatment products to make water care effortless, or stepping in to help take over various aspects of your maintenance, we've got you covered.
Contact us, or visit one of our six showrooms to find everything you need to maintain your Jacuzzi®️ Hot Tub like a pro!