If you're in the market for a new hot tub, you've likely spent a lot of time thinking about what size would be best for you.
4-person hot tubs are one of the most popular options, and for good reason.
These spas can provide a luxury experience without requiring a large backyard, and can easily meet the needs of various lifestyles.
If you've been considering a 4-person hot tub, keep reading!
Below, we're going to cover everything you need to know, from the best benefits, how to choose yours, and three stunning options that are sure to make an impact on your backyard!
Benefits of 4-Person Hot Tubs
While all hot tubs boast impressive health and wellness benefits, each size provides unique perks that make them stand out from the rest.
They Fit Almost Any Yard
Unlike their larger counterparts, 4-person hot tubs are a great option for compact spaces.
Due to their smaller size, they offer a robust range of options when it comes to your installation and can complement spaces that may not have a traditional layout.
More Affordable Than Larger Models
While any hot tub is an investment, price tags tend to rise based on the size of the model.
Of course, the features and overall design of the spa will influence price, but smaller models tend to be more affordable while still meeting many of the same needs.
This makes them a great option if you're looking for higher-end features but want a more affordable price.
Ideal For Indoor Installations
If you love the idea of having your hot tub indoors, a 4-person hot tub is a great option.
Because of their compact size, moving them into an indoor space is easier, while avoiding the need for a large room to accommodate it.
Perfect For Small Families and Couples Alike
Best of all, these hot tubs can provide small families with enough space for their kids to play while also creating a cozy, intimate atmosphere for some one on one time with your favorite person!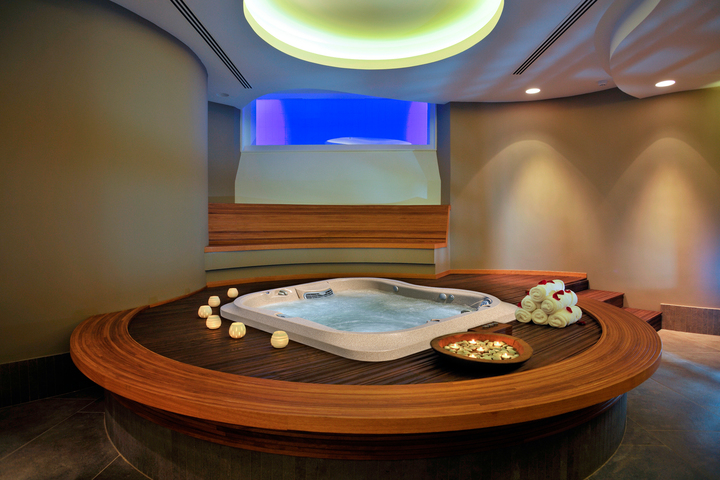 Key Features To Consider When Choosing Your Hot Tub
The hot tub you choose is going to be providing you with soothing relief for upwards of 20 years, so it's crucial to find the right model.
Discovering your perfect match all comes down to what you're ultimately looking for in a spa.
Before settling on your hot tub, consider these four things to ensure you select one that is sure to meet all your wants and needs.
1. The Size Of Your Hot Tub And Location
The size of your hot tub plays a big role in whether it's a good fit for your space.
You want to ensure you choose a hot tub that can complement your space without making it feel crowded or cramped.
Before you begin exploring your options, you'll need to measure your location and consider how much space you can use for your hot tub.
This will help you narrow down which models would be a good fit for your installation.
2. Seating Configuration
Another important aspect of your hot tub is the layout of the interior.
How you plan to use your hot tub will influence the seating configuration that would be best suited for you.
For example, if you plan on using your hot tub to keep the kids active all year long, you may want a model that has a more open design to maximize the play area.
Alternatively, if you want to use your spa for romantic side-by-side massages, you may want to find a model that has two seats that are located directly beside one another.
3. Entertainment Options
Many hot tubs provide various features specifically designed to enhance your time in the water.
Are you someone who uses music as a way to calm your mind?
If so, you may want to consider a hot tub that is outfitted with a sound system for you to easily fill the air with your favorite playlist each time you step into the water.
Some other entertainment options you may want to consider include LED lights with various color settings or a waterfall along one side of the spa.
4. Energy Efficiency
There's no denying that hot tubs will have an effect on your energy bill, but you may be surprised at how little this may actually be.
Many hot tubs have been designed with energy efficiency in mind, and have advanced systems to keep energy costs low even during the coldest months of the year.
When exploring your options, look for models that have energy-efficient features, such as insulation quality, smart technology, or advanced filtration systems.
3 Stunning 4-Person Hot Tubs
At Jacuzzi Hot Tubs of Southeastern PA, we exclusively stock Jacuzzi®️ Hot Tubs, providing top-quality hydrotherapy and innovative designs to the members of our communities.
There are three Jacuzzi®️ Hot Tubs that fall into this size range, and each one offers its own unique experience.
Mood™️ Hot Tub
The Mood™️ Hot Tub is one of the most affordable, easy-to-use models, with its Plug n' Play design and user-friendly control panel.
Along one side, you'll discover a unique bench seat, perfect for sharing with your friends and family.
Directly across the spa, there are two sculpted seats, gently curved to hug your body as you settle down for a powerful hydro massage alongside your loved one.
To make this model stand out even more, it includes an optional Suite Package!
This flawless bundle of accessories can help make your spa even more accessible, and includes a cover lifter, steps, and handrail.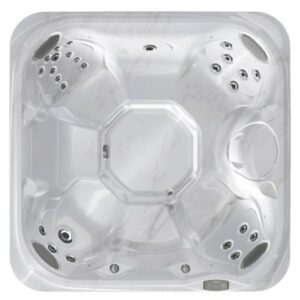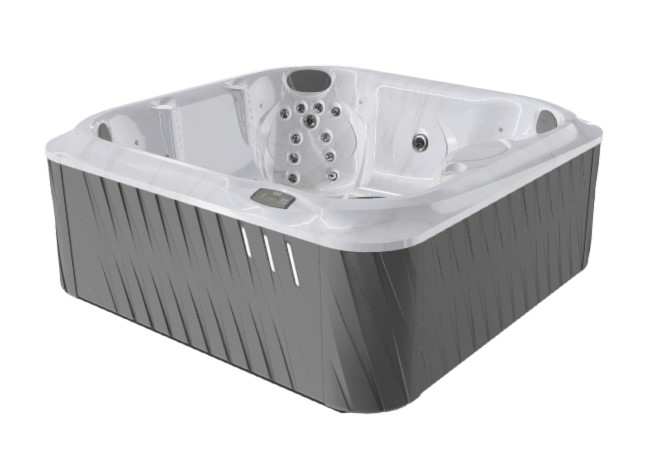 J-225™️ Hot Tub
With its all-new design, the J-225™️ Hot Tub is sure to add a hint of style to your backyard.
This hot tub boasts a large open interior with four luxurious corner seats, each with its own unique pattern of jets to easily target your aching muscles every day of the week.
The perfect family model, the J-225™️ Hot Tub makes quality time effortless.
From enjoying a quiet moment of self-care to watching your kids light up as they discover the stunning LED lighting, this model will quickly become a favorite part of your family routine.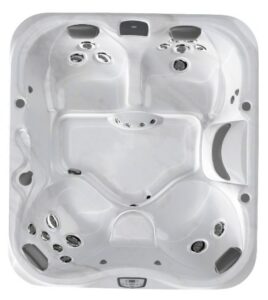 J-325™️ Hot Tub
The ultimate mid-size luxury model, the J-325™️ Hot Tub boasts a range of advanced features that will never leave you wanting more.
Each seat is lined with a variety of PowerPro™️ Jets, targeting every weary muscle from your shoulders to your hips to leave you feeling refreshed moments after stepping into the water.
This model includes a stunning illuminated waterfall, adding a hint of ambiance to your evening sessions, while the LED lighting transforms your spa into a dreamy oasis.
Best of all, the J-325™️ Hot Tub makes water care a breeze with CLEARRAY®️ On-Demand, ensuring you can easily monitor and adjust your water management system, to maximize efficiency.
Why Choose a Jacuzzi®️ Hot Tub?
Jacuzzi®️ Hot Tubs were the first on the scene and have been bringing hydrotherapy to households for over 60 years!
Since its beginning, this brand has continued to evolve, creating patented designs to innovate the industry, causing a ripple of growth.
Jacuzzi®️ Hot Tubs don't simply create hot tubs that look good and feel great.
They create hot tubs that are backed by science, from the design of their seats to the exceptional combination of air and water for the perfect hydromassage.
For a high-quality, reliable hot tub that was designed to alleviate aches and pains and enhance your time at home, a Jacuzzi®️ Hot Tub is the way to go!
Shop 4-Person Hot Tubs in Haverford
Are you ready to explore your options in person?
Visit the team of experts at your local Jacuzzi Hot Tubs of Southeastern PA!
With five showrooms across Pennsylvania and one in Delaware, finding your new hot tub is as simple as walking through our doors.
Our team can help walk you through your options and help you find the perfect one for your unique needs – and with financing options, your dream hot tub is more affordable than ever!
Contact your local team, or visit your nearest showroom today!