After you install a hot tub, chances are you'll soon notice that you're spending a lot more time in your backyard. Finally, enjoy it as much as you should have been all along!
However, since you're now spending a lot more time in that part of your home, it might be worth investing a little more in improving your backyard.
There are many backyard hot tub accessories that can help you improve the comfort, flexibility, and functionality of your outdoor space and entire hot tub experience. Read on to learn about the top four backyard hot tub accessories!
Your Top 4 Backyard Hot Tub Accessories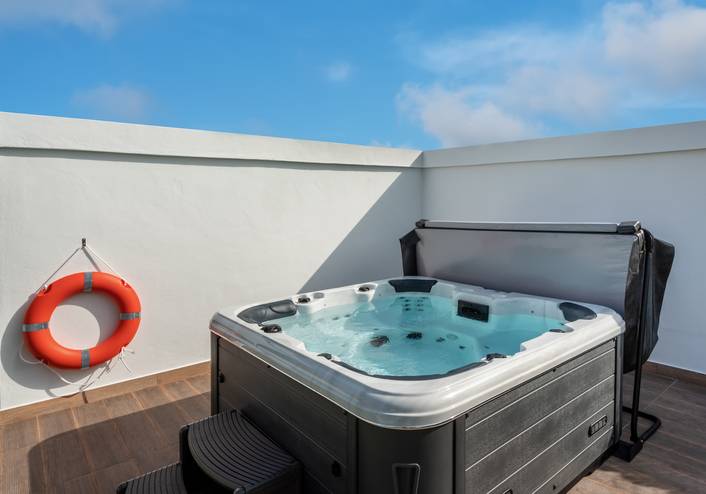 1. Hot Tub Planter
A touch of green is not only aesthetically pleasing, but it's also great for your mood.
Plants, flowers, and trees have been shown to improve the mood and overall atmosphere by helping you to reconnect with nature and the outdoor environment.
Whether plants make you feel better or not, they will undeniably look beautiful next to your hot tub. By adding that touch of nature and a splash of color to your backyard, you can create a stylish and enjoyable place.
There are many different types of hot tub planters available, which are perfect in any given environment. Are you looking for a more streamlined, modern approach? Or are you in for that classic rustic feel?
Whatever the case, you will certainly be able to find a style that will suit your tastes and needs, while complimenting your entire backyard.
2. Hot Tub Gazebo
A gazebo can prove to be a great addition to any backyard area, especially if there's a hot tub involved.
Gazebos can offer many different functions. Some love to build a bathing station near their hot tub, using a gazebo as a sort of base to store clothing, mobile devices, towels, robes, shoes, and other items that people normally use around the pool.
On the other hand, gazebos are also perfect for leisure time. Especially on hot summer days, spending time under the heat of the sun might cause fatigue and even become dangerous.
A gazebo could be used to help you and your loved ones cool down and relax, without being directly exposed to the extreme heat of the summer sun.
Try adding some of the following to your gazebo for the ultimate backyard experience:
Outdoor couches
Outdoor chairs
Patio dining set
Chandelier
Carpet
Television
Stereo system
Twinkle lights
Outdoor bar area and/or mini fridge
Think a gazebo might be for you? Take a look at our online backyard hot tub installation gallery for some inspiration!
3. Cover
Hot tub covers are crucial when it comes to protecting your hot tub from debris.
When a hot tub isn't in use, the best owners love to use a cover to keep anything and everything from contaminating their water.
In most cases, even to help regulate the water temperature and ultimately reduce heating costs.
4. Patio Set and Seating
Patio furniture and seating options are essential to just about any backyard. Such items can really help turn your backyard around and make it into a comfortable space for you, your family, friends, and guests alike.
The possibilities are truly endless! And with the right furniture, you can create a gorgeous backyard hot tub installation and add an elegant flare to your backyard.
Hot Tub Accessories for Sale in Southeastern PA
Feel free to get in touch with our experts at Jacuzzi Hot Tubs of PA for further information, questions, or inquiries.
We would be happy to help you find the best spa and backyard hot tub accessories!