Jacuzzi® Brand Hot Tubs are known and respected as some of the best on the market.
This industry-leading manufacturer has ruled the marketplace for over 60 years, and its name is synonymous with excellence and quality across the board.
Many hot tubs around the world are incorrectly referred to as a "Jacuzzi" rather than a hot tub.
That's just one of the ways that Jacuzzi® Hot Tubs has made an impact on the marketplace and revolutionized the industry.
Read on to learn more about the best five built-in Jacuzzi® Hot Tub features.
5 Best Built-In Jacuzzi® Hot Tub Features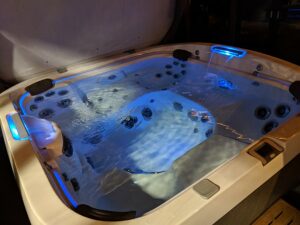 1. Stereo
In today's world, entertainment is one of the most important components of high-end hot tubs. The best manufacturers are often looking to dazzle their customers by implementing great features that aim to add more layers to the spa experience.
Audio is most certainly one of these features, and the Jacuzzi® Brand has certainly streamlined the industry in regards to high-quality stereo systems that offer both functionality, accessibility, and flexibility.
Jacuzzi® Hot Tub stereo features have often been praised for their combination of quality and flexibility. Modern Jacuzzi® Hot Tubs have state-of-the-art features that allow people to connect a wide variety of devices to the speakers, streaming music through Bluetooth, which means fewer cables around and more comfortable streaming solutions around the hot tub.
2. Seating
No hot tub worth its name would be complete without a comfortable and luxurious seating solution. In order to enhance the comfort and quality of the experience, Jacuzzi® Hot Tubs went to great lengths to provide its customers with advanced and ergonomically-designed seats that suit the body perfectly and offer maximum luxury.
The seats are built with high-quality materials and are extremely durable and aesthetically appealing.
3. Purification
Built-in water purification systems have often been hailed as some of the most interesting and exciting features of Jacuzzi® Hot Tub. The purification features always ensure top-of-the-line hygiene and require less maintenance than many other hot tub manufacturers on the market.
The Jacuzzi® Brand has spared no expenses on the front of water purification. The company has worked hard to create a system that's extremely effective, as well as easy to use, and energy-efficient.
Jacuzzi® Hot Tubs has developed the proprietary CLEARRAY® water purification technology with the aim to reduce costs greatly while enhancing the overall hot tub experience.
4. Lighting
The lighting solutions within each Jacuzzi® Hot Tub have been designed to add comfort and style to both the hot tub and backyard area. This particular set of features is not purely aesthetic, but also remarkably useful.
Proper illumination is one of the key components of a safe and enjoyable hot tub experience since it will enhance the overall functionality of the setting. This lighting becomes exceptionally useful when the sun goes down, as users can watch their steps more effectively and control the hot tub with ease.
5. Jets
The powerful massage jets within each Jacuzzi® Hot Tub are considered groundbreaking in terms of their design and quality. The jets installed in Jacuzzi® Hot Tubs are well-known for their remarkable flexibility and ease of use.
They are also highly respected for the many modes of operation that they can provide, which can result in hours of fun and most importantly, to unlock an ocean of health benefits and perks that will make the massage experience to new heights for the user.
Contact our team of hot tub specialists at Jacuzzi Hot Tubs of Southeastern PA for additional information concerning the latest and best products from Jacuzzi® Hot Tubs.