You've taken the plunge and purchased the perfect hot tub for your home. It's not quite a time to kick back in your new spa yet, however.
Before you can start enjoying relaxing soaks complete with jet massage, you must ensure your hot tub is installed properly.
A stable installation begins with a solid hot tub foundation. And that means avoiding grass or dirt as your base. An added foundational layer is needed for a good hot tub installation.
In this article, we will explore the best hot tub foundation options for your spa.
6 Best Hot Tub Foundations For Your Spa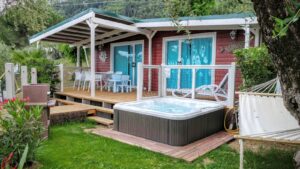 1. An Existing Deck
If you wish to install your new hot tub on an existing deck, you must first ensure the structure will bear the spa's weight. Although a hot tub doesn't weigh much when empty, filled, it likely weighs well over 3,000 pounds.
As long as your deck was built to code and is uniform and level, it is likely equipped to handle the weight of a full hot tub. Either way, we do recommend having an expert take a look at the deck to ensure a safe and sound installation.
2. An Existing Patio
Your patio can be an ideal place for a hot tub install, but only if it is completely level.
If it runs at even a slight angle for the sake of drainage or has age cracks, it won't work for your hot tub. Make sure your patio is completely level before the installation.
3. Concrete Slab
When an existing deck or patio isn't an option, pouring a concrete pad is your best bet. A concrete slab is not only economical, but practical, too.
It can be created to be perfectly level — and that is a must for a solid hot tub base.
4. Crushed Gravel
Crushed gravel is a great foundation for a hot tub, but only when the installation is done properly.
Gravel can shift easily, so you'll want a professional installer to do the job. He or she will be able to ensure the gravel conforms to the shape of your spa's base, holding the unit in place.
It's also vital to use the right kind of gravel. Talk to an expert before you buy any supplies.
5. Paver Stones
When installed correctly, paver stones can be a good base for your hot tub, but often need an additional layer on top to make it level. A cement topping can be used between the stones and the spa's bottom for a base that will hold your spa in place.
6. Prefabricated Pad
Most often used for indoor hot tubs, prefabricated pads often come in kits that you buy to match the size of your spa. These pre-made plastic spa pads can be adjusted to suit the size of your unit, making them a convenient choice, inside or outside.
Jacuzzi Hot Tubs of Southeastern PA
Need a hot tub installation? Our experts at Jacuzzi Hot Tubs of Southeastern PA can help.
As the No.1 dealer in the region, we always stock the best hot tubs and quality hot tub parts.
Visit one of our showrooms today or send us a message for more information about our professional installations.